Introduction
Congratulations with the purchase of the DJ HUD!
This HUD is able to work together with all SRC type of receivers.
If you are new to the concept of audio streaming then please take a look at this page: What is streaming.
Wearing the HUD
Right click the HUD in your inventory and select Wear from the sub menu. Default it will use the Top Left position. You can use any HUD position, it will auto adjust it's position relatively to the screen edges. It is not advised to use the center/center2 positions.
First Use
When you use it the first time, it will automatically expand to show the full HUD. Use the Hide button (bottom right icon) to minimize the HUD. Click on the Show button on the minimized HUD to show the full HUD again.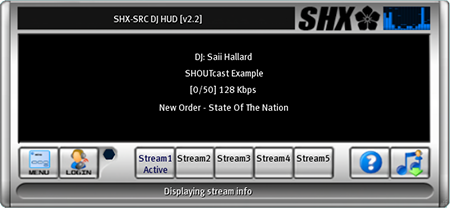 Image 1
First you want to add your stream URL.
Rightclick the hud and choose EDIT.

Choose the first file as seen in image 2, and doubleclick it to edit.
If you are using SHOUTcast, enter the full URL (including http:// and :port as seen in the example) behind the SHOUTCAST_URL: keyword. Behind, not on the next line!
Pollrate is the time between getting the songname from the server in seconds. 10 is the minimum.
Servername is something you can use as a name in the scripts. Normally you will not have to worry about this.
If you use ICEcast, put the URL behind the ICECAST_URL: keyword. And set: USE_ICECAST: YES
INFO_URL: can be used twofold:
1) You can enter a URL to another source for songnames
2) You can disable the retrieval and display of songnames, do this by setting it like this: INFO_URL: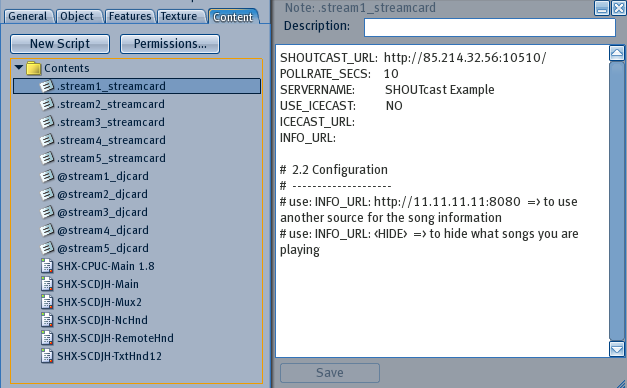 Image 2
Login
The login button (HUD login) does not require you to been added to the SRC receiver. With this login button, the login procedure has to be started by a manager of the SRC Receiver. (he/she clicks on DJ HUD and will find you when you are in range). When granted access, the light next to the login button will flash, indicating you are allowed to login.
However, if you are added to the SRC receiver already, you can login directly without having to be granted access first, just click on the login button.
Do note that for the HUD login button to work, you have to select one of the stream buttons first (1 to 5). These stream buttons will load two cards that are inside the HUD:
.stream1_streamcard & @stream1_djcard
In most cases you only want to change the URL, do this by editing the appropiate streamcard. You can use up to 5 streams this way.
For more information about the use of these cards, click here.
More advanced users may want to edit the way their text and images are displayed on the SRC Receiver. Consult the SHX Scripts manual for details.